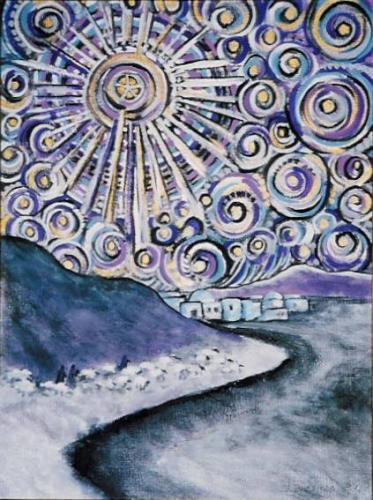 by Jonathan Shively
Texts:  Zephaniah 3:14-20; Isaiah 12:2-6; Philippians 4:4-7; Luke 3:7-18
Reflection: 
We live in a world that at times seems primarily driven by fear. We clutch our pocketbooks and wallets as we walk down the street. We install alarms in our cars and homes. We see, and contribute to, the polarizing differences of cultures and lifestyles. We buy insurance for nearly everything. We watch for fiscal cliffs and constantly scan the horizon for terrorist activity.
There are other kinds of fear as well. Fear of the dark. Fear of death. Fear of personal failure. Fear of our innermost thoughts. Fear of social rejection. I'm sure that you began making your own list several sentences ago.
It is into this human condition of fear that the promise of God is born. In today's text, a key message that is heard over and over is "do not be afraid." In Zephaniah God reminds the Israelites that God's power and authority will work all things out for the good in the end. In Isaiah we also see a reminder that it is God's strength and might that will rule the day. Paul encourages the Philippians by reminding them of the closeness of God. And in Luke's gospel it is John the Baptist, preparing the way for Jesus and reassuring the people that news of Jesus' impending arrival is indeed good news. "Don't be afraid" interjects itself repeatedly into the Advent and Christmas narratives.
But it's one thing to be admonished not to fear and quite another to know what we are to do instead. Here, too, the readings for this week provide insight. The texts tell us that good alternatives to fear are things like singing and rejoicing in God. The antithesis of fear seems not to be confidence or calmness, but rather gladness and joy. Out of gladness and joy, rooted in God's presence and activity in our lives, we both experience and express such things as love, gentleness, peace, compassion, productivity and thanksgiving.
The promise of the Jesus whose birth we await is radical because it interjects an alternative outcome to the fear and fighting that seems to be our human default toward the unknown and uncomfortable. The Messiah that enters the world as both God and human shows us another way of living, one in which peace and nonviolence, love and gentleness, trust and compassion are the primary characteristics of a world turned upside down.
We await the Jesus who flips it all over, from fear to faith and from worry to wonder. Come, Lord Jesus, you who are THE Good News for our world today!
Music:
Don't be afraid from The Iona Community (1995, Wild Goose Resource Group/GIA)
Come, thou long-expected Jesus  (Charles Wesley/Rowland H. Prichard)
O come, O come, Immanuel  (traditional)
Prayer:
God, we don't want to be afraid.
Give us strength to live beyond our fear.
We are so tired of worrying.
Give us peace to quiet our distraction.
We no longer want to be paralyzed by our anxiousness.
Help us trust your steady presence.
God, we are eager to receive your Son once again.
Free our voices to sing with gladness.
We are hopeful and expectant that you will be recognized among us.
Direct our thoughts toward thanksgiving.
We long for alternatives to violence and war.
Let your gentleness be known through us.
We wonder. We pray. We wait.
Amen.
Quotation:
"God has made us and given us liberty to reflect his life, yet we use our minds and our freedom to protect ourselves rather than to pass on the life we have received. . . . The familiar world is one in which people do not habitually give to each other as they could, let alone giving to God. . . . Jesus is the human event that reverses the flow of human self-absorption because it is unconditionally open to the divine freedom."  Rowan Williams, Tokens of Trust: An Introduction to Christian Belief, pp. 81 & 83.